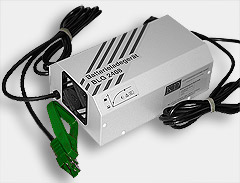 In many industries an increasing need at modern power supply systems exists. In the processing industry e.g. generators are used increasingly for technological processes such as electroplating, plasma technology, induction heating or for test stands. In those fields high power levels up to 10-100kW are needed. Converters of high power are also used in the railway technology.
Further areas of application are battery chargers for electric vehicles, load electric rectifiers for telecommunication stations, power supplies for the house and illuminating engineering. During the use of regenerative energies (photovoltaics, fuel cell, wind generator) adapting converters between the energy source and the mains and/or consumer loads are needed. All these applications cover a large power range.
The moreover mass-markets for power supplies of smaller power levels exist (< 500W). Here the production costs are the center of attention. SMPS for PC, server, communication and entertainment electronics are manufactured in enormous numbers of items. The market for lamp ballasts for halogeneous and fluorescent lamps is also increasing. In the automotive engineering by the increasing number of electrical consumers and decentralization of the utility systems increasingly power supply modules are needed.These must be characterised by highest reliability.

Our activities cover the development of complete power supplies in accordance with product requirement specifications up to the support of the introduction to the production process with the client or the own manufacturing of a small series. Substantial work procedures are:
development of the circuit concept

selection of the power semiconductors

dimensioning of the passive components

dimensioning of the cooling system

development of the control concept, selection/ design of the control hardware

Software-Entwicklung

software development

PCB development

preparation of certification/ EMI suppression

preparation of production documents/ documentation
Developments up to the phase of the operating model or prototype are also possible. The moreover we offer concept studies or the design of individual converter components. This concerns in particular the computation and optimization of magnetics.
Further fields of activity are measuring services, e.g. the measurement of the line-bound radio interferences and line harmonics (conformity EN61000-3-2). Likewise we offer problem solution at existing systems and their revision or modification.